Simpson PowerShot PS4033 Gas Pressure Washer Review
Simpson PowerShot PS4033 Gas Pressure Washer Review
Down Stream Injection System
Starts Easy, Runs Smoothly and Delivers high Output
3 Year Commercial Warranty
Robust Professional Chassis
Lots of power
Diverse Tips Included
Simpson PowerShot PS4033 Gas Pressure Washer Review
Honda GX270 commercial Series engine with oil alert

Aaa industrial Triplex Plunger pump with power boost technology which provides higher pressure at the nozzle

50′ x 3/8″ steel-braided hose with quick connectors

Welded Steel frame, Steel engine plate, solid Steel Axle and 13″ pneumatic tires

Pro-style spray wand with 5 quick connect nozzle tips: 0-degree, 15-degree, 25-degree, 40-degree, and soap application nozzle
'The Choice' for contractors and professionals.
Designed to meet the rigorous demands of the cleaning pro, the SIMPSON PowerShot is powerful, yet extremely compact, easy to transport, set-up and load.

Perfect for contractors who specialize in deck cleaning, wood restoration, paint preparation, graffiti removal, and all other professional cleaning services.

Professional spray gun w/ safety lock-out

Convenient on-board accessory storage for spray gun/wand, high pressure hose, and nozzles
(Note: Because of the greater risk of injury, we recommend no pressure washer that comes with a zero-degree replaceable nozzle or setting, no matter how well it cleans.)
 The power shot 4000 PSI gas pressure washer powered by Honda GX270 engine is an extremely powerful direct drive Machine. The power shot is "the choice" for contractors & cleaning professionals who want direct drive simplicity & Simpson quality in one package. More pressure & more water flow result in even greater cleaning performance & faster job completion. Those who agree that "time is money" use the power shot!
HONDA GX270 OHV
Technologically Advanced & Easy to Start
Oil Alert System Shuts Down Engine when Oil Level is insufficient
Cast Iron Cylinder Lasts Longer
Meets EPA and CARB Emission Standards
Backed by a 3 Year Commercial Warranty
PUMP:
Industrial Triplex Plunger Pump
Forged Brass Head to Withstand High Pressure
Ceramic Pistons for Longest Life
Thermal Relief System Protects Pump from Overheating
Supported with a 2 year Commercial Warranty
The Simpson PowerShot PS4033 is part of the Pressure washer test program. In our lab tests, Pressure washer models like the Simpson PowerShot PS4033 are rated on multiple criteria, such as those listed below.
Cleaning: Versatility and efficiency in cleaning a range of surfaces. The better performers have multiple spray patterns that can cover various cleaning chores, from light, superficial cleaning to deep cleaning of concrete, decking, and other hard-to-clean surfaces.
Power: A combination of pressure, measured in pounds per square inch (psi), and flow, measured in gallons per minute (gpm). Higher pressure results in better cleaning of a given surface; coupled with a higher flow as well, you'll get the job done the fastest.
Noise: A combination of measurements, based on dBA, reflecting the proximity of the operator to the pressure washer. While our Noise score averages measurements taken close by the machine and at the end of the hose's typical reach, we strongly strongly recommend hearing protection for working close by a gas powered pressure washer in particular.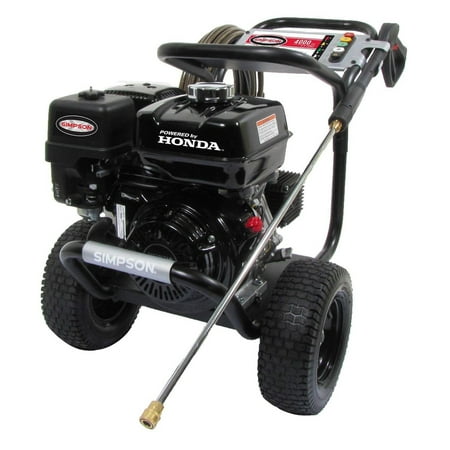 $849.00
$1,415.50
in stock
Walmart.com
$849.00
out of stock
as of March 15, 2020 4:03 pm
Amazon.com
Simpson PowerShot PS4033 Specs
---
Engine Brand                Honda GC
---
CC                                 270
---
Fuel Tank Size              5.6 quarts
---
Gpm                               3.3
---
Psi                                 4,000
---
Pump Type                   Triplex Plunger Pump
---
Frame Type                  2-Wheel Cart
---
Wheels                         Pneumatic
---
Hose Storage               Hook
---
Hose Length                50 ft
---
Hose Material              Polyurethane
---
Hose Diameter            3/8 Inch
---
Spray Gun Grade        Residential
---
Spray Gun Wand        Single Wand
---
Spray Tips                  Quick Connect Tips
---
Turbo Nozzle              Sold Separately
---
Weight                        131 Lbs.
---
Simpson PowerShot PS4033 Gas Pressure Washer Review
Excellent!
The SIMPSON PowerShot 4000 PSI @ 3.3 GPM is built to perform. With a powerful Honda engine, reliable triplex pump and welded steel frame construction, this gas pressure washer is great for construction, equipment upkeep, facility & fleet maintenance cleaning. The PS4033 runs on a Honda engine with low oil shutdown and comes with a 50' hose, an ergonomic spray gun and 5 Quick-Connect nozzles
PROS
Down Stream Injection System
Starts Easy, Runs Smoothly and Delivers high Output
3 Year Commercial Warranty
Robust Professional Chassis
Lots of power
Diverse Tips Included
CONS
Leaves hard to remove black grindging marks on the working surface from cheep rubber rests.
Add your review
|
Read reviews and comments