Simpson Aluminum alh4240 Gas Pressure Washer Review
Simpson Aluminum alh4240 Gas Pressure Washer Review
The flow rate and pressure are excellent, it does a great job as a pressure washer
Superior tires.
Honda GX390 engine is lighter and therefore more energy-efficient than other types of engines
High Quality, Features
More detergent options
Long, durable hose
This is a Great combination with the CAT pump
The Cat Pump is a "Best in Class" pump
Simpson Aluminum alh4240 Gas Pressure Washer Review
Reliable HONDA GX390 OHV commercial series engine with Oil Alert (engine oil included)
Dependable Commercial-grade CAT industrial triplex pump
Light weight aircraft grade aluminum platform with brushed extruded aluminum tubing
Pneumatic wheels provide easy maneuverability
Dial-N-Wash spray gun allows you to adjust cleaning pressure from 1000 to MAX-PSI with a simple twist
50-Ft MONSTER dual steel braided hose with quick connects is easy to use and provides long-lasting performance
5 Stainless steel pro-style tips with quick disconnect allow you to easily swap out tips to suit your cleaning needs
Features chemical/detergent injection system so you can fill with cleaners and other chemicals designed for pressure washers
Honda engine & Industrial AAA pump. Designed to meet the rigorous demands of the cleaning pro, the SIMPSON Aluminum Series frame is crafted of 100% professional grade aluminum, making it lighter in weight than most steel frame designs. Perfect for contractors who specialize in deck cleaning, wood restoration, paint preparation, graffiti removal, and all other professional cleaning services.
Equipped with commercial series OHV engines and industrial triplex plunger pumps that are built with high-quality components and designed for optimum performance in the harshest environments. Welded aircraft grade aluminum platform with brushed extruded aluminum tubing and pneumatic tires for mobility across most any surface. Pro-style quick connect spray wands and nozzles, with professional spray gun, allows users to operate with ease.
High pressure hoses are non-marring, kink and abrasion resistant, and either polyester or steel-braided for exceptional strength and long-life. For those extra dirty jobs, drop the detergent siphoning tube into pressure washer safe detergent and attach the soap applicator nozzle.
(Note: Because of the greater risk of injury, we recommend no pressure washer that comes with a zero-degree replaceable nozzle or setting, no matter how well it cleans.)
As with any gasoline-powered equipment, upon initial startup, the engine may smoke a bit excessively as the oil residue is burned away. This will clear up in a matter of seconds. If you have any concerns or experience a large amount of residue, please contact Simpson for further assistance. Simpson power washers are designed to provide years of service. Proper use, care, and maintenance of this machine will provide a significant return on your investment.
Quality of the unit is excellent. Very well built, and just a bit on the heavy side. But, this is a professional pressure washer. Powerful and easy to use.
Simpson
ALH4240
Aluminum 4.0 GPM Gas Pressure Washer with Honda GX390 OHV Engine Especially created for the home and shop, the SIMPSON direct drive gas pressure washer is perfect for the "do-it-yourselfer" looking for maximum performance with minimal investment. Simple to use and great for cleaning decks, patios, house siding, outdoor furniture and prepping home exteriors for painting.
Equipped with premium HONDA gx390 OHC engine that are built with high-quality components, designed to start easy, run smoothly and deliver high output. Cat industrial triplex pumps provide higher pressure at the nozzle resulting in greater impact and cleaning performance. It comes with 13-inch premium pneumatic tires, 3/8″ x 50′ steel-braided HP hose with quick connectors and pro-style gun and wand with 5 quick connect nozzles. Please note that all of our pressure washers are 100% functionally tested in the factory and may contain minimum residual fuel or fuel odor. This is a new machine and a gas odor is normal and expected.
This Simpson pressure washer is part of the Pressure washer test program. In our lab tests, Pressure washer models like the Simpson ALH4240 are rated on multiple criteria, such as those listed below.
Cleaning: Versatility and efficiency in cleaning a range of surfaces. The better performers have multiple spray patterns that can cover various cleaning chores, from light, superficial cleaning to deep cleaning of concrete, decking, and other hard-to-clean surfaces.
Power: A combination of pressure, measured in pounds per square inch (psi), and flow, measured in gallons per minute (gpm). Higher pressure results in better cleaning of a given surface; coupled with a higher flow as well, you'll get the job done the fastest.
Noise: A combination of measurements, based on dBA, reflecting the proximity of the operator to the pressure washer. While our Noise score averages measurements taken close by the machine and at the end of the hose's typical reach, we strongly strongly recommend hearing protection for working close by a gas powered pressure washer in particular.
Simpson Aluminum alh4240 Offers
$978.00
in stock
8 new from $978.00
as of March 18, 2020 7:42 pm
Amazon.com
Free shipping
$1,183.47
$1,299.00
in stock
9 new from $1,183.47
as of March 18, 2020 7:42 pm
Amazon.com
Free shipping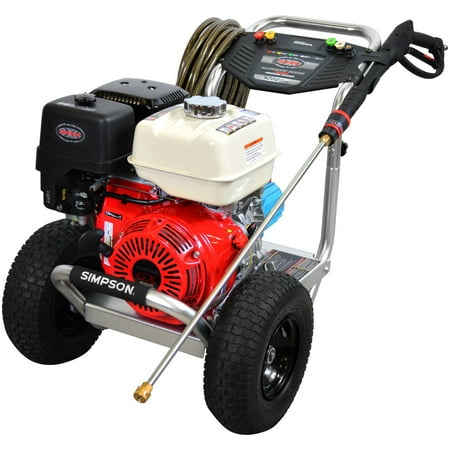 Walmart.com
Simpson Aluminum alh4240 Specs
---
Engine
---
Engine Brand                                                      Honda GX
CC                                                                        389 CC
---
Starter                                                                 Recoil
---
Fuel Tank Size                                                    6.4 quarts
---
Consumer Engine Warranty                             3 Years
---
Commercial Engine Warranty                         3 Years
---
Pump
---
Pump Type                                                        Triplex Plunger
---
Adjustable Pressure                                         Yes
---
Chemical Injection                                            Siphon Tube
---
Water Temperature                                            Cold
---
Pump Consumer Warranty                               2 Years
---
Water Pressure                                                  4200 PSI
---
Water Flow                                                         4 GPM
---
Hose
---
Hose Storage                                                    Hook
---
Hose Length                                                      50 Feet
---
Hose Material                                                    Rubber
---
Hose Diameter                                                  3/8 Inch
---
Hose Connections                                            Quick-Connect
---
Spray Gun
---
Spray Gun Connection                                  Quick-Connect
---
Spray Gun Grade                                            Professional
---
Spray Gun Wand                                            Single Wand
---
Spray Tips                                                       Quick Connect Tips (5)
---
Turbo Nozzle                                                   Sold Separately
---
Simpson Aluminum alh4240 Gas Pressure Washer Review
Excellent!
Powerful commercial pressure washer with a Honda engine, CAT industrial pump, and a wide cleaning radius
PROS
The flow rate and pressure are excellent, it does a great job as a pressure washer
Superior tires.
Honda GX390 engine is lighter and therefore more energy-efficient than other types of engines
High Quality, Features
More detergent options
Long, durable hose
This is a Great combination with the CAT pump
The Cat Pump is a "Best in Class" pump
CONS
Heavy
Relatively expensive.
Loud
Handle Too Low
Add your review
|
Read reviews and comments